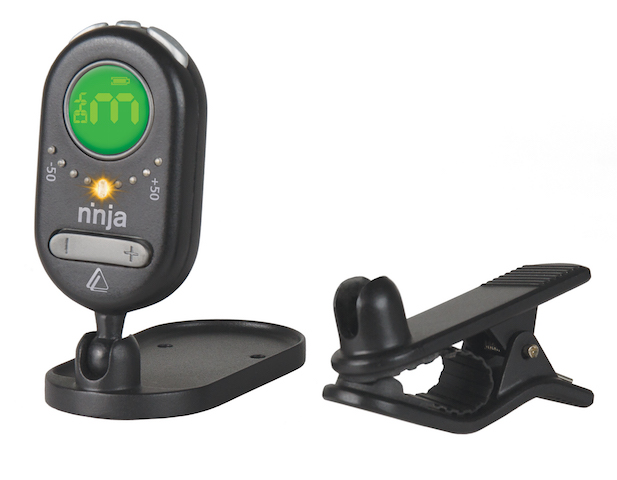 Thousand Oaks, CA – November 2015
Tuning your guitars and other instruments just got a lot more convenient-and stealthier-with the release of DeltaLab's new NT-100 Ninja tuner. This extremely accurate, innovative tuner attaches to the back of your guitar's headstock using DeltaLab's versa-mount base. The base provides semi-permanent mounting via a high-stick silicone backing that is safe for most poly and nitro finishes.
When not in use, the tuner folds flat so that it's hidden behind the headstock and invisible to the audience. When you flip it open, its auto-on/off feature engages, illuminating an extremely bright fisheye LED readout. A detachable 360° swivel cup ensures you can view the display from any angle.
To use the Ninja with other instruments, simply pop it out of its versa-mount base and into the included clip-on base. (Note that the versa-mount is not recommended for vintage or "checked" instrument finishes.)
The Ninja can be calibrated between 430 and 450 Hz and can detect frequencies from A0 (27.5 Hz) to C8 (4,186 Hz). In addition to the main display, a nine-LED meter provides a visual tuning reference. Red LEDs light when the pitch is sharp or flat, guiding you toward perfect tuning, and when the pitch is in tune, the center LED glows yellow, while the main display illuminates bright green. You'll never strain your eyes checking this tuner!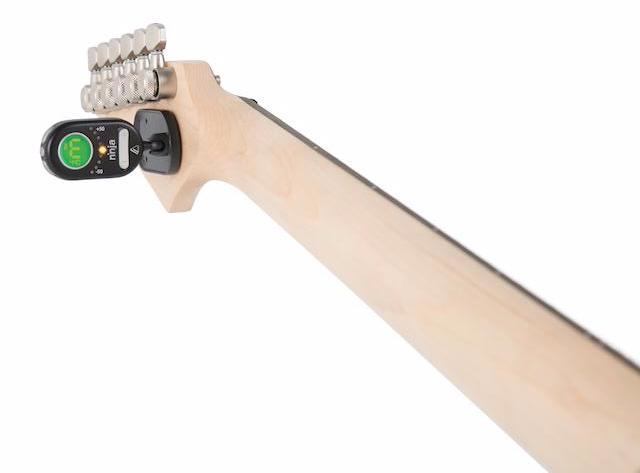 DeltaLab is known for quality metronomes, as well as tuners, so the Ninja includes a built-in visual metronome that shows at a glance when you're in time. A low-battery indicator ensures you'll know when it's time to replace the Ninja's 3V lithium battery.
"We're extremely excited to introduce the Ninja tuner to guitarists everywhere," said Rick Gagliano, Deltalab Product Manager. "Our research indicates that guitarists who love their instruments, want to proudly display the brand of their guitar to the world. The versa-mount base never hides your guitar's logo, because it mounts on the rear of most headstocks. Convenient and cool!"
The DeltaLab Ninja is available immediately with a street price of $29.99. With a price this low and tuner this stealthy, you could put one on each of your guitars, so you're always ready to go.
For more information, please visit www.deltalabeffects.com or the dedicated Ninja microsite at http://ninjatuner.net.